Doctor Barbara KASZA, dentist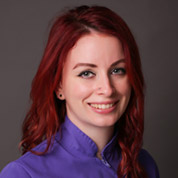 Doctor Barbara Kasza graduated in University of Szeged in 2016. She joined Helvetic Clinics in 2017 for further improvements and to get her degree in specialization of prosthtics. Barbara is fluent in English.
After graduation I worked in both, private and state medical clinics for 1,5 years. My areas were periodontics, operative dentistry, prosthodontics and basic surgery. Since I started working my aim is to satisfy all my patients' requests and to achieve a healthy and beautiful smile. I pay attention to my patients and try and reduce their pain during all procedures. I am interested in prosthetics and surgery too.
Interests:
periodontal treatments
esthetic fillings, inlays
root canal treatments
extractions
fix and removable prosthetics
Early experiences
2016 Villányi Dent Dental Center
2017 State Clinic Érd
2017 Helvetic Clinics
Conferences and course participations
2012, 2013, 2014 Perspectives in Paro-implantology Conference, Szeged, Hungary
2015. Dr. Paul Gerlóczy: Veneer preparation aspects in anterior region
2015. Dr. Paul Gerlóczy: Direct restoration in anterior region