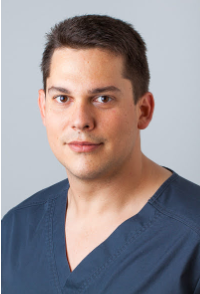 Dr Peter GOMBOCZ, Doctor of Dental Medicine
Doctor Peter Gombocz graduated from Semmelweis University Faculty of Dentistry in 2016, and began practicing as a general dentist at a private clinic in Budapest and Sopron. He joined the Helvetic Clinics Team in 2018.
His motto is that a proper communication between patient and dentist leads to a faster and more effective treatment.
He is fluent in English and German.
My specialty :
I have decided to be a dentist after I realized that all of my skills and interest could be combined with this profession. The complexity of total dental rehabilitation requires a serious professional challenge and Helvetic Clinics is a great place to develop this. I have a firm belief that this can only be achieved with good teamwork in a proper way. I focus on conservative dentistry and prosthetics, especially on endodontic treatments and fixed replacements.
I also consider it very important to keep the gnathological and parodontological principles in mind
during every type of treatments.
aesthetic direct and indirect restorations
microscopic root canal treatments
prosthodontics
Schools and previous experience :
2005-2008 Eötvös Loránd Science University – sociologie
2009-2016 Semmelweis University Budapest – dentisterie
2010-2011 Alföldi Dental System Budapest, Dental Assistant
2015 Semmelweis University Department of Prosthodontics– general dentistry practice
2016-2018 Sorridente Wellness Dentistry – dentist
2018 Fehér Dental Team Sopron – dentist
Congress participations :
The theoretical and practical bases of posterior direct restorations – dr. Fráter Márk
Indirect supply of the posterior region based on biomechanical principles – dr. Fráter Márk
Nobel Biocare Protetic Course – dr. Czinkóczky Béla
KerrEndo 3D advanced endodontic course – Prof. dr. Gianluca Gambarini
Dental World '17 – Endodontic practice course: dr. Eugen Buga, dr. Roberto Cristescu
Preparation Techniques Based on Biomedical Principles – Anterior Region – dr. Grosz János
Additive Prosthodontics on anterior and posterior teeth – Prof. Camillo D'Arcangelo
Impact of the dental operating microscop – dr. Sergio A. Rosler
The Art of Endodontics – hands-on course – dr. Stephen Buchanan
Back to the Roots – Retreatments done the easy way – dr. Sebastian Bürklein
Treatment of endodontic perforations with bioceramic materials – dr. Mario Zuolo