Dr Peter Incze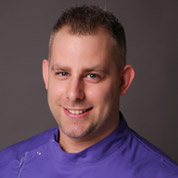 Dr. Peter Incze graduated from Semmelweis University in 2012 and immediately started his specialization in conservative dentistry and prosthodontics while working in a clinic in Erd, Hungary.
My specialty:
invisible fillings, veneers, inlays
root canal treatments
prosthetics, metal free restorations
implant dentures
periodontal treatments
I am interested in all fields of dentistry. I am specialized in conservative dentistry and prosthetics. I also treat temporomandibular joint disease.
I am a perfectionist, so it's very important for me to work neatly and precisely. Accurate and conscientious work is what I am eager to do.
Our latest technology allows treatments to be painless. I put a special emphasis on this.
I do my best to ensure the calm and harmonic environment to reach the perfect results.
I am more than happy, if my patients are satisfied and they leave with nice smile and healthy teeth. I always do everything in this consciousness.
Earlier experience
2012: Dental Degree in Budapest Semmelweis University (with cum laude)
till 2012: in Ligeti clinic in Erd
2012-2015: Specialization in Prosthodontics and Conservative Dentistry (Semmelweis University in Budapest)
Since 2017 at Helvetic Clinics