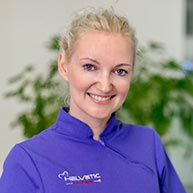 Dr Daria Pokusaeva graduated from Semmelweis University of Budapest in 2021. She is keen on aesthetic and adhesive dentistry. She speaks English, German, French and Russian.
About myself
I always had a passion for dentistry. This love was developed through multiple successful experiences of mine as a patient, hence I think it is very important to treat patients with respect and consideration of sensitivities. My hobby is learning new languages which helps me in my professional life to gain knowledge and up-to-date theoretical background that I can imply in my everyday practice.
My thesis," The Effects of Endodontic Irrigants on Dentin" was evaluated with an excellent mark at the Department of Conservative Dentistry.
Esthetic fillings, inlays, veneers
Endodontic treatments
Fixed and removable prosthetics, full mouth rehabilitation
Professional cleaning
Experience
Semmelweis University, Department of Periodontology:
Cause related periodontal therapy
Splinting
Fillings
Semmelweis University, Department of Community dentistry, Emergency service
Examination, diagnosis, radiologic evaluation of emergency patients,
Emergency endo-therapy
Conservative restorations
Course and Congress Participations
Aesthetic restoration techniques ( Dr. Döbrentey, Semmelweis University, 2019)
Digital orthodontics (Dr. Simon Istvan, Semmelweis University, 2020)
Previous Experience
2021 Dental Degree in Budapest Semmelweis University
Joined Helvetic Clinics in 2021