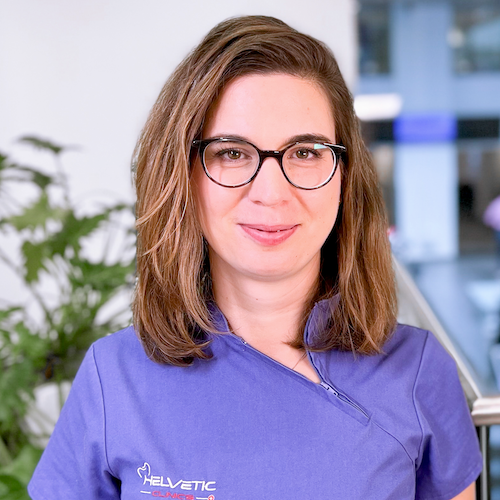 Dr Sara graduated from Semmelweis University Budapest in 2012 and then commenced her PhD studies winning a scholarship in a topic related to periodontology and cell biology. She comes from several generations of doctors and dentists. She prepared to be a dentist from early childhood. She has participated in a number of courses since qualifying in the field of endodontics, restorative dentistry, prosthetics, implant prosthetics, orthodontics and TMJ problems. She is fluent in English and German.
My speciality
My great passion in dentistry is implant prosthetics including full mouth rehabilitation. Building on strong foundations is essential to me and therefore I put a special emphasis on oral hygiene education.
Establishing a good personal relationship with patients is especially important to me.
I have lived and worked as a dentist in the UK for several years, therefore I'm comfortable treating English speaking patients and I'm well aware of the standard of British dentistry.
In my free time I enjoy reading, hiking and traveling with my husband and two sons.
Fixed restorations on teeth or implants
Removable restorations on teeth or implants
Metal-free restorations
Invisalign
Fillings
Root canal treatments
Previous experiences
2012-2017 PhD student Semmelweis University, part-time trainee in Prosthetic Dentistry
2012-1015 part time private practice in general dentistry, Budapest
2017-2021 London Dental Implant, London
2017-2021 Dentalart Implant Clinic, London
2022-Joined Helvetic Clinics
Congress Participations
2011 CED-IADR, Budapest
2012 ISC, Graz
Postgraduate Courses
2012 Vita Easyshade and 3M ESPE 3Shape, Semmelweis University
2013 Competence in Aesthetics, Vienna
2017 BLS, London
2018 Biomechanics of preparation techniques in the front region, Ivoclar, Grósz János, Budapest
2018 Biomechanics of preparation techniques in the posterior region, Ivoclar, Grósz János, Budapest
2018 BLS, London
2018 CBCT in Basic and Digital Dentistry, City of London School of Dentistry
2018 Invisalign Go, AlignTech, London
2019 BLS, London
2019 NEBDN witness training program, London
2019 Nobel Biocare All-on-4 concept, Armando Lopes, Budapest
2020 BLS, London
2021 Totally composite, Monik Vasant, London
2021 Direct és indirect veneers, Volom András, Budapest
2021 Functional Dentistry – Occlusion management, Prague
2021 Challenges of All-on-4, total rehabilitation, Prof. Paulo Malo
2022 Rudolf Slavicek School: From Diagnosis to Functional Occlusion