HELVETIC DENTAL CLINICS in Hungary have signed a partnership with UNICEF: for each dental crown, for each dental implant, we will donate 1€ to support UNICEF in their program to eradicate polio.
One in 200 infected children suffer irreversible paralysis, and among those paralyzed children, 5% to 10% will die when their breathing muscles become immobilized. There is no cure for polio but it can be prevented through immunization administered orally.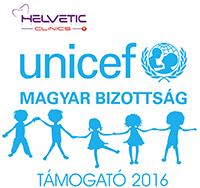 In 1988, the 41st World Health Assembly adopted a resolution for the worldwide eradication of polio. It marked the launch of the Global Polio Eradication Initiative (GPEI), spearheaded by national governments, and supported by UNICEF and other partners including the Bill and Melinda Gates Foundation.
Today more than 10 million people are walking who would otherwise have been paralysed by the disease. More than 1.5 million childhood deaths have been prevented. Once polio is eradicated the world will be able to celebrate a major global advantage that will benefit all people regardless of their origins.
The cost of a vaccine is as little as 1 € per dose. For each crown and each implant HELVETIC DENTAL CLINICS BUDAPEST will donate 1 € (one vaccin) to UNICEF. Together, let's help to eradicate this disease and eliminate Polio forever, this action will provide a better life for thousands of children.