Doctor Gabor BERKEI, Cosmetic Dentistry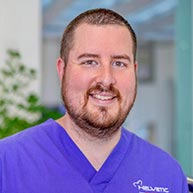 Dr Gábor Berkei graduated in 2012 at Semmelweis University. Since then he has completed Conservative Dentistry, Dental Prosthetics and Periodontology specializations. Currently he is participating in extended dental prosthesis specialist training. He specializes in implant prosthetics, implant placement, bone replacement and the treatment of periodontal diseases. Since 2018 he has also been working in a clinical-university research program about gum formation around implants and he has been a co-author of several scientific articles.
My Specialities:
I always try to plan for the long term and take several professional aspects into account. It is important for me to keep the final aesthetic and functional goals in mind during surgical phases. That is why, in addition to the conservative dentistry and dental prosthetics specialization, I also completed the periodontology specialization training.
The aesthetics of the teeth and the proper chewing function are really important for me. I also find the health of gums and bone particularly relevant.
I have been working at Helvetic Clinics since 2015 as a dentist, and I have been fulfilling a managing position at the clinic since 2019.
Complex dentures, full mouth rehabilitations
Arcus Digma measurements, temporo-mandibular joint treatments
Implantation
Sinus lifting, bone replacement
PRF treatment
Complex periodontal treatments, regeneration, pocket surgeries
Gum surgeries
Previous experience:
2012-2014: Graduated dentist at Semmelweis University in Budapest
2015- : Dentist at Helvetic Clinics
Congress and Course Participations:
2013, Italy, Pisa, Style Italiano Master Course
2014, Japán, Tokió, Tokuyama Master Course
2016, Budapest, Semmelweis University, graduated as conservative dentistry and prosthodontics specialist
2017, Budapest, Joseph Choukroun, PRF seminar
2018, Brazília, Curitiba, ILAPEO University, Immediate Loading, Advanced Surgery Intensive Course
2019, Budapest, Semmelweis University, graduated as periodontist
2019, Budapest, Straumann Group Academy, Immediate loading, BLX course