Doctor Gyorgy VARNAI, Prosthetic Dentistry and Endodontics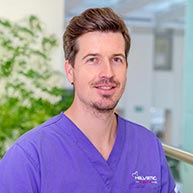 Dr Gyorgy Varnai graduated in 2012 from Semmelweis University. In September 2015, Gyorgy finalised his specialisation in Prosthodontics and Endodontics at the Semmelweis University. He joined Helvetic Clinics in 2016. Gyorgy speaks English fluently.
My specialty
My specialties include functional aesthetic dentistry and endodontics. I operate with loupes or with a microscope whenever needed.
My objective in dental treatment is to create long-term and sustainable restorations for patients which meet all functional and individualised aesthetic needs.
I consider this as a high priority, whether it comes to dental restorations or a complete upper-lower denture restorations.
Aesthetic dentistry
Full-mouth prosthetic restorations
Metal-free restorations
Implant dentures
Endodontics (root canal treatments)
Invisible fillings
Previous experience
2012: Dental Degree in Budapest Semmelweis University
2015: Specialisation in Prosthodontics and Endodontics (Graduation in September 2015) Semmelweis University of Medicine
2012-2016: Dentist specialised in Prosthodontics, Conservative Dentistry and Endodontics at Breier Dentistry and Healthcenter
2015: Dentist specialised in Endodontics and Conservative Dentistry at Microscope dentistry Gombosdent Dentistry
2016-: at Helvetic Clinics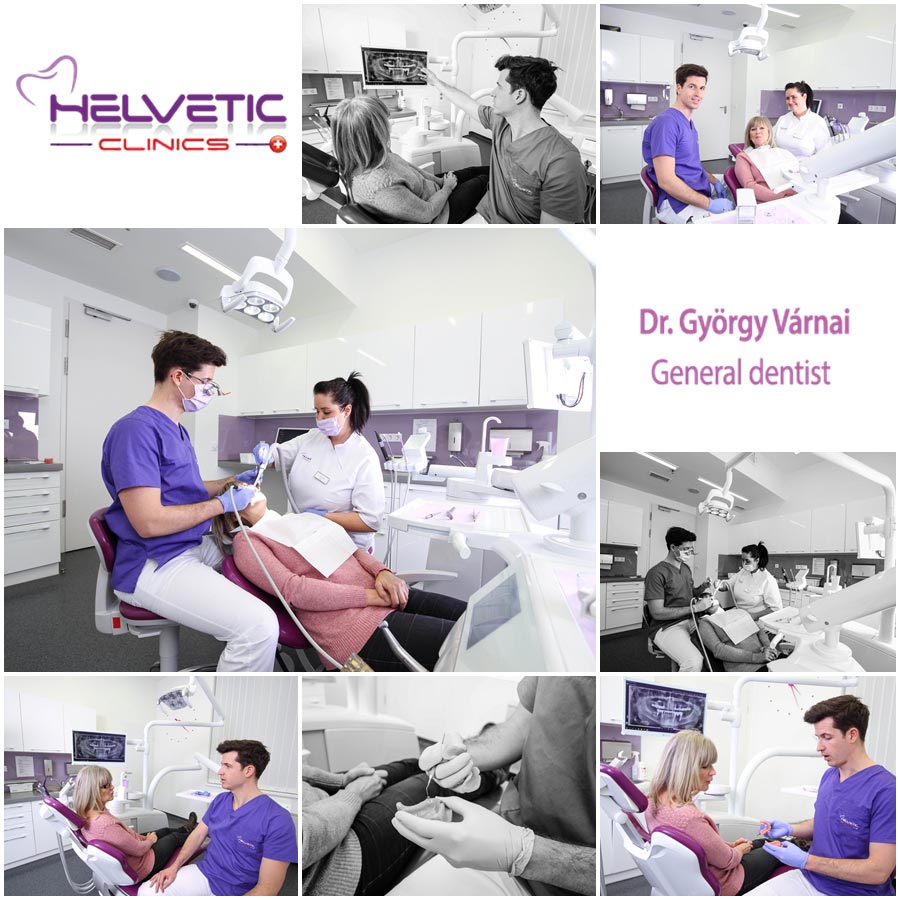 Congress and Cours Participations
2012. Dr. Volom András: Dental World: Aesthetic Dentistry Congress
2012. Dr. Csikány Csilla: VDW Reciproc System Endodoncia course
2013. Paronodology – Implantology Congress, Szeged
2013. Dr. Paul Gerlóczy: Shoulder Preparation and Metal-free Crowns: practical and theoretical education
2014. Dr.Volom András: Dental World: Aesthetic Dentistry Congress
2014. Paroimplant Congress, Semmelweis University
2014. Dr. Kontra Henriett: Pro Taper Next Rotary File System in Endodontics course
2015. 36th International Dental Show, Köln, Germany
2015. Dr. Benyőcs Gergely: Dental World: Endodontic Congress
2015. Rui Pereira de Costa: EndoMasters 2015, International Endodontic online conference
2016. Endodontic Workshop with Morita Root ZX Rotary System, Semmelweis University
2017. Belograd Academy Esthetic and Cosmetic Dentistry Course
2018. Belograd Academy Endodontic and Post Endodontic Rehabilitation Course
2019. Budapest, Dr. Jász Máté: TMI Problems and Treatments, Arcus Digma