Doctor Laszlo LUKACS, Periodontist and Implantologist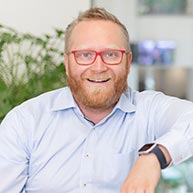 Doctor Laszlo Lukacs graduated from Semmelweis University in 2006 and immediately started lecturing and researching in the Department of Periodontology where he still lectures today. His main specialty is the periodontal and implantological treatment of patients suffering from periodontal diseases. He regularly attends graduate and post-graduate professional training seminars, not only as a participant, but also as a lecturer. His works have been published in professional magazines in Hungary and he translates professional articles from other languages. Laszlo is fluent in English and German.
My specialty
My specialty is complex periodontal disease rehabilitation and I pay particular attention to the protection of the tissues around the teeth. In addition, part of my specialty is implantology and the required different bone augmentation and regeneration techniques. I am a regular writer of professional articles. I speak English and German.
Periodontal disease, conservative and surgical treatments
Stop gum bleeding
Implantation
Different techniques of bone grafting
Surgical removal of wisdom teeth
Previous experience
2002-2006 Dental Degree in Budapest Semmelweis University
2006-2009 Periodontist Degree in Budapest Semmelweis University
2006-2012 The University Clinic of Periodontology instructor doctor
From 2006, I started working in private surgeries
In 2007 at Kreativ Dental clinic Hungary, as Periodontist
Since 2009 at Helvetic Clinics
Congress participations
In 2007, periodontal plastic surgery carrying capacity and limits of Budapest
DentsplyFriadent World Symposium 2008 in Berlin, Germany
Bone Management Symposium 2008 in Hungary, Budapest
2008 shoulder preparation practical and theoretical education and metal-free crowns, Dr. Paul Gerlóczy, Budapest
Europerio 2009, Stockholm, Sweden
2011 Astra Tech, Trainthetrainer, Gothenburg, Sweden
ParoImplant 2011 international congress in Budapest
Dental World 2011, in Budapest, in its presentation
2012. Perspectives on periodontology, Szeged
2012 Astra Tech symposium in Budapest, invited speaker