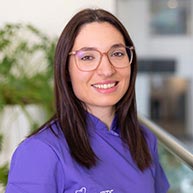 Dr Lili Farkas graduated in the Faculty of Dentistry at University of Szeged. After graduation she worked both in private and state clinics for 3 years. She joined the Helvetic Clinics' team in 2017 for further professional experiences and for acquiring her specialisation. Her specialisation is operative dentistry, endodontic treatment, removable/fixed prosthetics and esthetic treatments.
My speciality
According to my specialisation I make effort to keep aesthetic and functional considerations in mind during my work. I like to follow up my patients' treatments from the very beginning to the last step, so I gladly carry out smaller periodontological and surgical interventions as well. My aim is to create a good atmosphere with the patients to reduce their stress during treatments and to give them positive experiences. I try to encourage them to maintain appropriate oral hygiene in order to prevent future dental issues. I like to treat children too.
I have been working for Helvetic Clinics for almost 3 years and I can gladly say that since then I have been surrounded by an excellent team and environment. Clinical teamwork and professional improvement are very important to me.
Esthetic fillings, inlays, veneers
Endodontic treatments
Fixed and removable prosthetics, full mouth rehabilitation
Professional cleaning
Previous experiences
2014-2017: Practising at private and state medical clinics
2017: Dentist Helvetic Clinics Budapest
Congress and Course Participations:
Perspectives in Periodontology, Szeged, 2013
Study-visit, University of Freiburg, Germany, 2014
Perspectives in Edno-Periodontology, Szeged, 2014
MiS Implant Course, 2014
Hungarian Dentists Days, Budapest, 2015
Radiation Protection Training on Extended Level, Budapest, 2016
Preparation for Sickness at Treatment Rooms in Dental Practices, Budapest, 2018
Rhinological Days, Szeged, 2018
Gnathological Problems and Their Treatments, Arcus Digma II., internal training, 2018
Modern Concepts of Dentistry, Szeged, 2019
Candulor Training, internal training, 2019