Doctor Rita Marton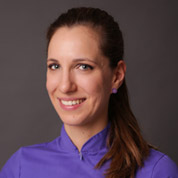 Doctor Rita Marton graduated from Semmelweis University of Budapest in 2009 as a Dental Medical Doctor (DMD), than she graduated as an Oral Surgeon in 2012. She made her speciality at the Semmelweis University of Budapest and with scholarships at the Albert-Ludwigs Universität of Freiburg. Her main specialties in oral surgery are: bone augmentation, implantology and peri-implant tissue management.
Rita is fluent in English and German.
My specialty
My specialty is Oral surgery with complex rehabilitation and bone augmentation, sinus elevation and all the techniques of allografts and intraoral bone blocks. I speak English and German.
Stop gum bleeding
Implantation
Different techniques of bone grafting
Complex treatment of large radicular cysts
Apicectomy of front, premolar and molar teeth
Pre-prosthetic surgical interventions (lateral augmentation, sinus floor elevation, harvesting retromolar bone blocks)
Removal of impacted wisdom teeth in local and general anesthesia
Surgical phase in the treatment of impacted canines
Conservative and surgical therapy of bone cyst
Treatment of dentoalveolar trauma
Oral rehabilitation of handicapped patients under general anesthesia
Previous experience
2003-2009 Dental Degree in Budapest, Semmelweis University
2009-2012 Oral Surgeon Degree in Budapest, Semmelweis University
2009- Private practices
Congress participations
"Implant Esthetics: Where are we today?" – Prof. Urs Belser, Basel 2017
2nd International Symposium – Bern 2016
40 Years Implant Dentistry – Loma Linda University, Los Angeles 2016
Waterlase, EasyLase course – Prof. Norbert Gutnecht, Budapest 2015
Long Term Implantology – Budapest 2015
Europerio8 – London 2015
Vertical Bone Augmentation – Dr. Urbán István, Urban Institute, Budapest 2014
EAO – Rome 2014
ITI World Symposium – Genf 2014
Waterlase, EasyLase – Prof. Norbert Gutnecht, Aachen 2013
Smylist®  – Smile Design– Budapest 2013
1st International Symposium – Bern 2013
DGMKG Kongress, Freiburg 2012